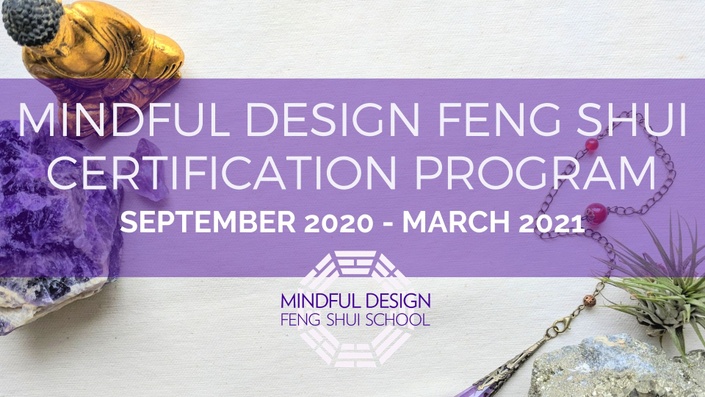 Mindful Design Feng Shui Certification: Class of Spring 2021
September 2020 - March 2021
Enrolment is closed for Class of Spring 2021
Registration for new session (Class of Fall 2021) will be opening soon!
Join our mailing list to be notified when enrolment opens
Mindful Design is a new way to learn feng shui. Our unique live and online training program takes an holistic approach to learning the art of feng shui. Mindful Design is about promoting a better way of living and creating sacred spaces that support and nourish.

We believe that a balance of intuition, knowledge, and lineage is the key to becoming an effective holistic practitioner. The Mindful Design Feng Shui Certification Program teaches you the methods, tools, and skills to channel your intuition through. Our goal is to empower graduates to help others to live clearer, purpose driven lives. Clear, confident, and energy aware; you will learn how to inspire others to live a more mindful life with feng shui.
This course is closed for enrollment.
The Mindful Design Certification Program
Our program is taught online live, in real-time!
We offer our live online feng shui certification program twice a year (Spring and Fall). Classes begin with an immersive foundational live, online weekend training. Students then continue to build their knowledge with our on-going case studies, live tutorials. You learn how to read the energy of a space through design details, color, and layout. Certification students then move into the deep dive, core feng shui of Level 2. Over eleven weeks students build on their knowledge of feng shui design details, and expanded exploration of core feng shui systems and principles. In our full Feng shui certification program students learn how to adjust, correct, and enhance using the nuanced and powerful transcendental side of Black Sect feng shui.
When you enroll in this certification course you will have access to both Level 1, Level 1 Tutorial case study sessions, and the full Level 2 course on our school platform.
This is program is for beginners as well as feng shui experts. No prior experience with feng shui is required.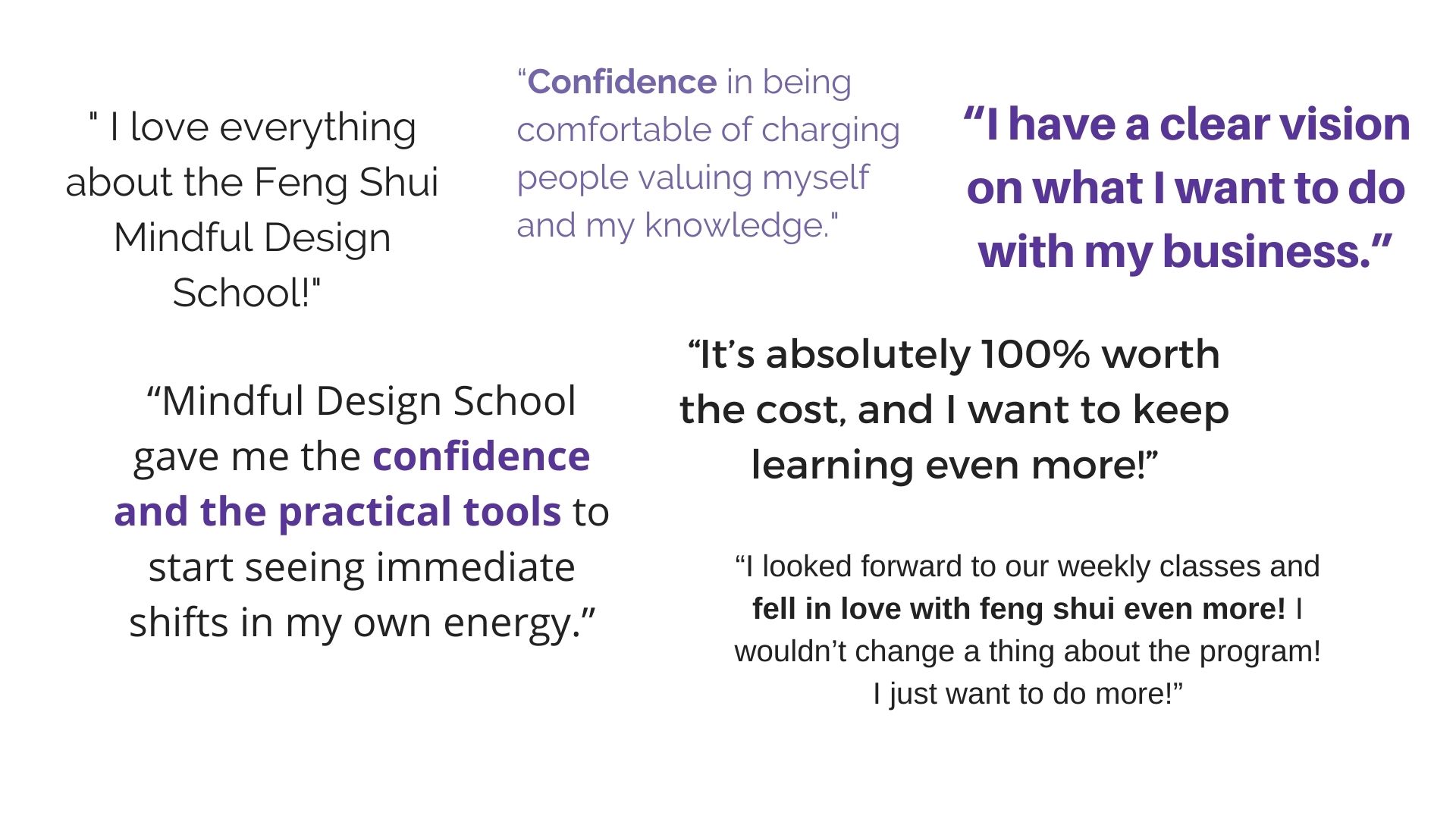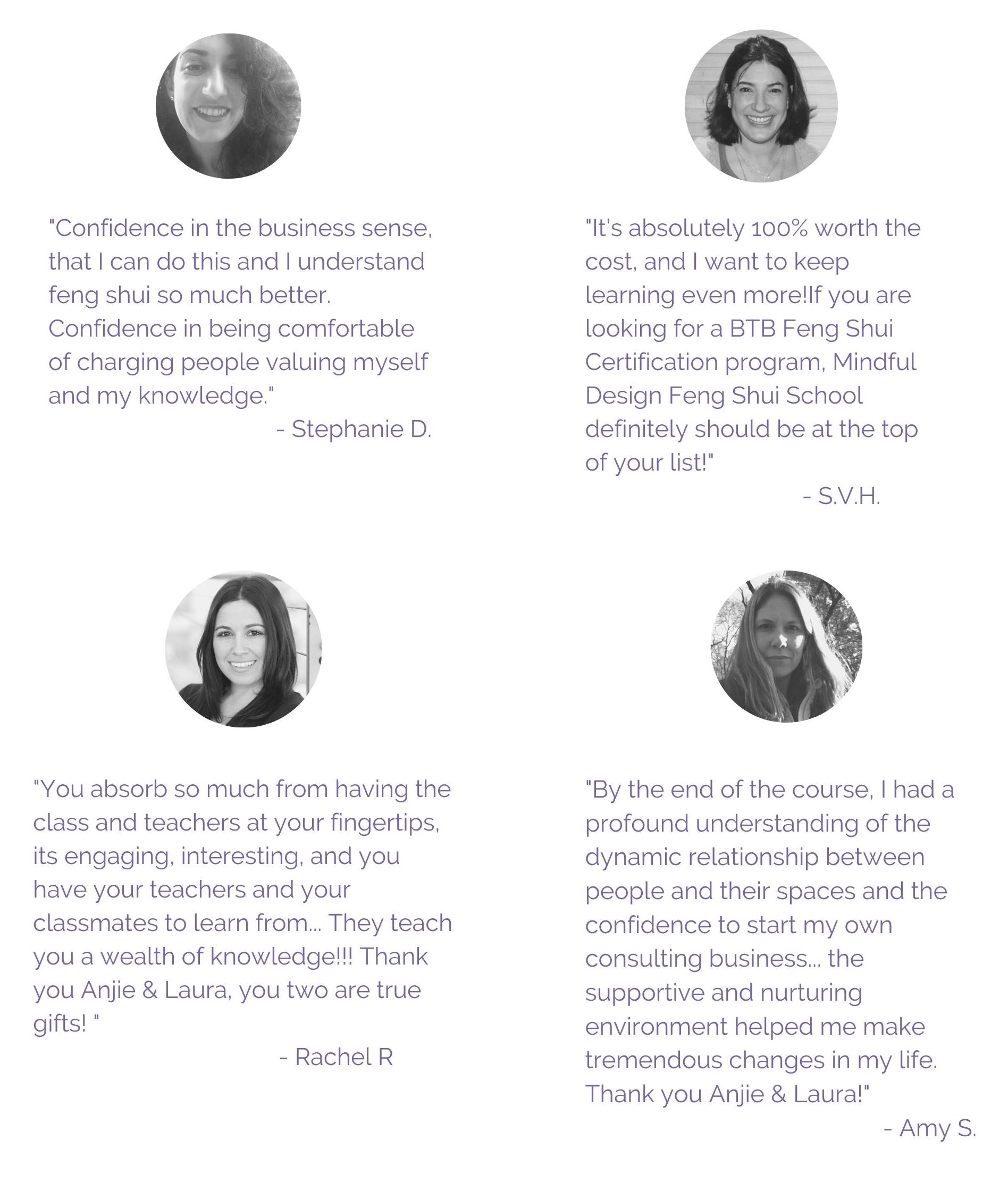 Mindful Design Level 1: Feng Shui Foundation
An intensive introduction to a transformational practice. The focus of Level 1 Feng Shui Foundations is to teach you the basic principles, while also demonstrating the transformative power of the practice: five modules that take you from the feng shui bagua map to space clearing. This intro level is an excellent standalone course for those interested in dipping a toe in feng shui waters. It is a required foundation for those choosing to pursue the full certification. Bonus: everyone in the course who submits drawings, will have their floor plan reviewed in the Live Case Study Group Sessions.
Course and module breakdown 2-day live online intensive: 5 modules + Live Case Study Group Sessions + Private Facebook group
MODULE 1: It's all about the energy: Intro to feng shui and the lineage of BTB
MODULE 2: Feng Shui Design: intro to adjustments, five elements, the bagua...
MODULE 3: Clearing & Cultivating Your INNER Qi: personal qi clearings and practices
MODULE 4: Nine Star Ki Numerology: intro to this insightful feng shui astrology method
MODULE 5: Clearing Your Space: focus OUTER qi and BTB space clearing methods
---
Mindful Design Level 2: Core Feng Shui

In Level 2 we dive deeply into the tools and techniques of mindful design, both practical and transcendental. The focus of the 9 module Mindful Design program is hands-on and constructive. You will learn skills such as how to read detailed floor plans. We will teach you how to interpret the energy of a space through design details, color, and layout. You will also explore the mysterious and powerful transcendental side of Black Sect feng shui, building on what we began in Level 1.
By the end of Level 2 you will have an understanding of how to read a client's energy, and adjust a space using simple feng shui cures and techniques.
Course and module breakdown 11 Weeks: 9 Modules + Weekly live webinars + Weekly discussion groups + Case Study reviews + Private Facebook group
Bonus: Audit 8 two-hour live feng shui consultations
MODULE 1 Reading floor plans & design details
MODULE 2 Bagua expanded
MODULE 3 Interior feng shui adjustments
MODULE 4 Exterior feng shui adjustments
MODULE 5 Five elements expanded
MODULE 6 Divination
MODULE 7 Abundance and feng shui
MODULE 8 Feng shui for career/workplace
MODULE 9 Your Feng Shui Journey
YOUR FENG SHUI JOURNEY: Expanding on your feng shui studies with a research project in a subject of your choosing. We give you one-on-one support and guidance. This project is also a great opportunity to begin working with feng shui in a specific area that you could build into a service or business focus.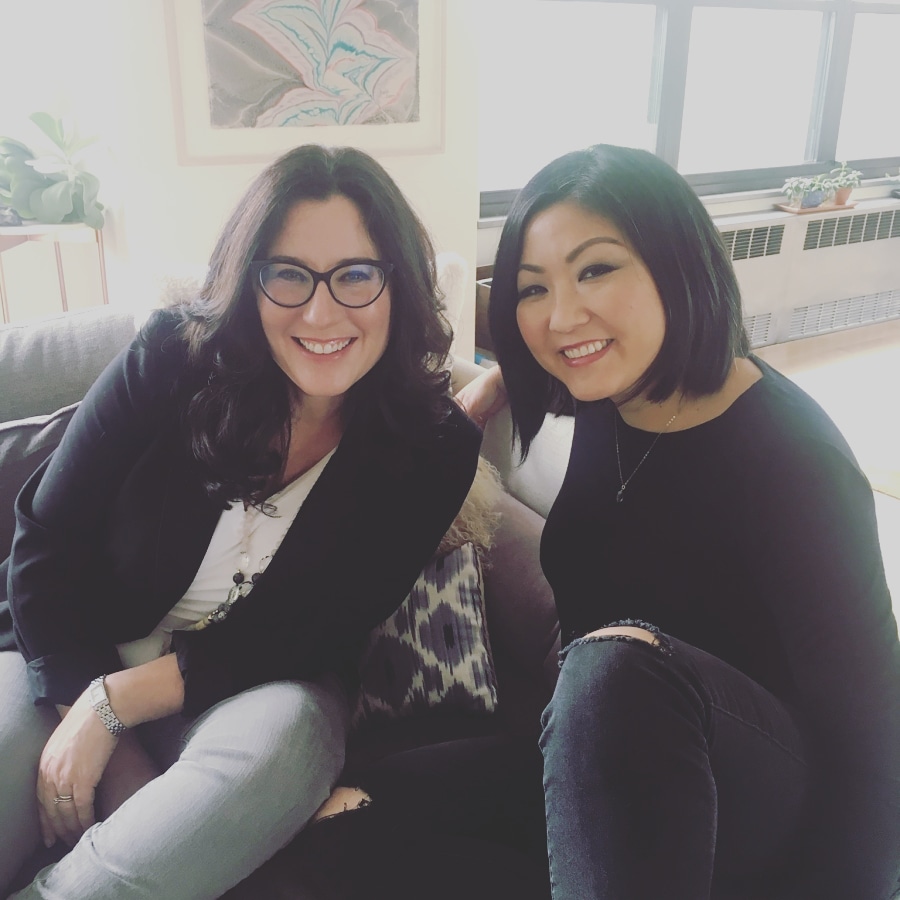 YOUR TEACHERS

Laura Morris and Anjie Cho are the founders of the Mindful Design Feng Shui School. Together they have over two decades of experience designing harmonious spaces for their clients in their successful design businesses. Through their articles, books, workshops, videos, TV appearances, and consultations, Laura and Anjie have guided thousands of people to shift their energy and revitalize their living spaces.
Laura is a certified Feng Shui consultant, interior decorator, and artist. She was the Feng Shui expert on the CBC's popular lifestyle show Steven & Chris, and is also the author of Creating Change: 27 Feng Shui Design Projects to Boost the Energy in your Home. She sits as the Board Chair of the International Feng Shui Guild.
Anjie is a certified Feng Shui consultant, licensed architect, and assistant teacher in the Shambhala lineage. She is also the author of Holistic Spaces: 108 Ways to Create a Mindful and Peaceful Home. She's the feng shui expert at the Spruce and has been featured in dozens of publications including: The New York Times, MindBodyGreen and BuzzFeed.
This course is closed for enrollment.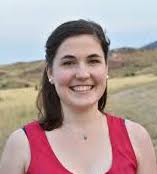 "This is one of the only online courses I've stuck with all the way to the end. It's not just a collection of content to consume like a lot of programs are—it's truly a mentorship. Anjie and Laura have so much knowledge to share, and they really encouraged us to tap into our own experiences of feng shui and cultivate our own wisdom. I deeply appreciated the opportunity to have a personal connection with my teachers as well as the other students. The format of this course allowed me to really absorb the material, so that now I can't help but connect every other practice and aspect of my life back to feng shui!"
- Maria Ramsey, Mindful Design School Grad
Course Curriculum
Welcome to the Mindful Design Feng Shui Certification Program
Available in days
days after you enroll