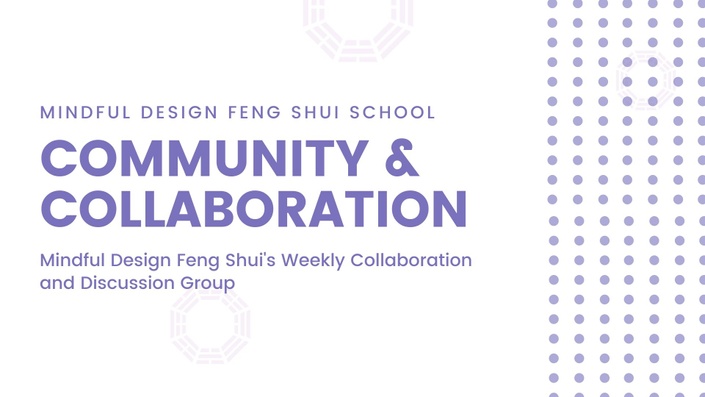 The Mindful Design Collaboration Community
Mindful Design Feng Shui's Weekly Collaboration and Discussion Group
From day one, our school has been completely virtual and online, it is how we learn, meet, and connect. When Anjie & I started this school we knew we would meet students and practitioners from all over North America and the globe, but we truly had no idea how close we would all become.
We have formed deep bonds with you all and after every final presentation class we are a little bit sad that we can no longer see your shining faces each week. We are tight knit community here at Mindful Design. So with that in mind, we would like to offer you all a way to continue to meet, connect and learn.
The Mindful Design Collaboration Community
A weekly discussion group hosted by Laura & Anjie exclusively for Mindful Design students and graduates. The intention of this group is:
to discuss openly and share your feng shui stories and experiences

to provide an opportunity to learn more through specific topics and ideas

to share floor plans with the group to get feedback

to get feedback and ideas for your business

to review client issue scenarios (while maintaining privacy for the client) to get a new perspective

to network and collaborate with other Mindful Design community members
Post-graduate & Business Building support
Aug: Divination
Aug 4th: Guest Rosalie Prinzivalli teaches the Eight Door Wheel
Aug 11th: Guest Chongtul Rinpoche from Bon Shen Ling
Sept 2021: Creating a Webinar
note: no class on Sept 29
Oct 2021: PR
Oct 6th: Guest Katherine Metz
Nov 2021: Five Element Face & Hand Reading
TBD: Guest Rosalie Prinzivalli
This is only available to students, graduates and alumnus of the MDFSS certification program.
A weekly one-hour standing meeting where we will meet on Zoom as a group. This group is also about keeping us connected and engaged with our practice, but it is also a way for us to keep each other accountable if we choose to set specific goals, either business or personal.
Collaboration Community Call
Wednesdays
1-2pm ET
(note: all calls are recorded if you can't make it live)
FYI it is offered first four Wednesday per month
The CC is an ongoing monthly subscription
Y
ou can unenroll anytime, however you can only join 2-3 times a year when we open up enrollment, TBD
Next Enrollment Week: Aug 1-7
$63/month
This course is closed for enrollment.